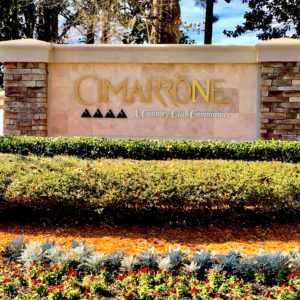 Cimarrone Golf & Country Club is a magnificent community located just off Interstate 95. Its prime location makes its residents close to everything that is important in Jacksonville: from the hustle and bustle of downtown to the peace and serenity of the beaches.
Residents of Cimarrone are provided with only the best amenities. Their recreation
center is a great place that brings families together with its swimming pool, soccer
field, and tennis and volleyball courts. The community is not only fun, but safe as
well with a guard at the front gate at all times.
Cimarrone is also home to the prestigious Cimarrone Golf Club. Residents can enjoy a round of golf on a course that is unique to their community. Located only
ten minutes away the World Golf Village, living in Cimarrone is living in a golfer's
paradise.
Residents of Cimarrone can enjoy a convenient location, many amenities, a safe neighborhood, and prime golf terrain. Come and see why Cimarrone Golf and Country Club's residents are so happy living in this beautiful and prestigious neighborhood.
Be sure to check out information on our schools and much more under the "Extras!" tab!
If you have any questions about Cimarrone or would like to learn more, send me a message anytime!