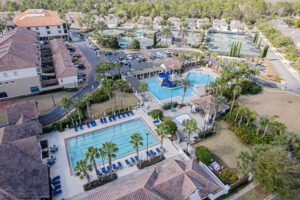 Palencia is located in St. Johns County, a unique place where important history, natural
beauty and economic progress are friendly neighbors. With nearby beaches and waterways,
preserved wetlands, eclectic shopping and dining, and easy access to downtown
Jacksonville, it's no wonder St. Johns County is one of the First Coast's most desirable
areas.
Palencia offers 2,642 residential homes, 300,000 square foot of retail space, 600,000
square foot of office space, lots of amenities and a wide variety of housing opportunities.
Community amenities include an athletic park, a swim and fitness center, an 18-hole
championship golf course designed by Arthur Hills, a 10-court tennis center, a golf clubhouse
and more than 30 acres of parks with walking, biking and jogging trails. Palencia's master
plan was creatively designed to blend a wide variety of home styles and price ranges into
one community.
Palencia has been recognized for quality residential construction, recreation, shopping,
golf and a spectacular natural landscape, all found in one community. Ideally situated as
the central gathering point of the community, Palencia Village features the golf clubhouse,
the swim and fitness center, the tennis center, the golf practice facility and the picturesque
Village Green. In addition, Market Street — the main thoroughfare in the village — is designed
for small retail shops, offices and live/work units. This proximity creates a true community,
promoting neighborly interaction from a bygone era.
The Palencia Club, the community's private championship golf club, was designed
by Arthur Hills. The par-72, 7,017-yard course creates a one-of-a kind golf experience
by weaving through a terrain of ancient live oaks, open marsh and coastal scrub oaks,
providing beautiful views of the Intracoastal Waterway. The 33,000-square-foot, award-winning private clubhouse features a luxurious, members-only dining room, a bar and grill
overlooking the spectacular 9th and 18th greens, banquet facilities and a public cafe.
Be sure to check out information on our schools and much more under the "Extras!" tab!
If you have any questions about Palencia or would like to learn more, send me a message anytime!