Shearwater is an amazing community located off the western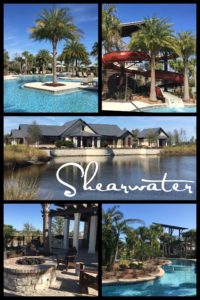 210-corridor in northwestern St. Johns County. From a state of the art amenity center, to extensive hiking trails, and even a kayak launch with access to Trout Creek, Shearwater truly has it all! The onsite Lifestyle Director is always planning something fun for the residents and children (and likely adults, too!) will love the 3-story waterslide and adjacent lazy river!
If you're looking for a community focused on healthy-living, Shearwater may be a great choice. Their onsite gym (or "fitness lodge, as it's called) offers exercise rooms and cutting edge fitness equipment for muscle building and cardio. If it's a nice day (and most days are), take your workout outside and enjoy the many outdoor fitness amenities, such as the lap pool, trail system, and sportsfields. Shearwater makes it easy to incorporate healthy living into your daily life!
HOA fees are just $150/year and CDD fees are reasonable, falling between $2,200 and $2,500 per year (depending on home and lot size).
Be sure to check out information on our schools and much more under the "Extras!" tab!
If you would like to learn more about this community, I'm a Shearwater certified agent and would be happy to answer any questions you may have! Feel free to send me a message anytime!