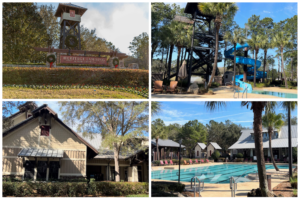 Heritage Landing at World Golf Village is an award winning community located in Northwest
St. Johns County, that was launched in 2003. At the heart of the neighborhood is an originally conceived and inventively-designed amenity center modeled after the great Appalachian and
Adirondack summer camps of our youth – known as Camp Heritage.
The entranceway to Heritage Landing is off of the River Road and southern extension of the
William Bartram Scenic Highway (C.R. 13) – the historic riverside route along the St. Johns
River from Jacksonville to St. Augustine, Palatka and eventually Daytona. Heritage Landing
Parkway is itself a scenic byway, extending 2,000' through lush landscaping with panoramic
views over the community waterways. The parkway arrives at a focal intersection, overlooking
Camp Heritage and its tall, forest-service-lookout-tower-styled water slide.
Designed with families in mind, most of the streets in Heritage Landing end in cul-de-sacs
overlooking woodlands, lakes or open spaces so that each small collection of homes can enjoy
greatly reduced vehicular traffic and the elimination of pass-thru travel. Heritage Landing is
surrounded on its eastern and western boundaries by preserved conservation lands.
Camp Heritage is the heartbeat of the neighborhood. Twin swimming pools with water jets, a
jumbo water slide, animal-tracked and leaf-imprinted "beaches" and a young children's wading
stream with fun sculptures of manatees and alligators get most of the action throughout the
summer. The pool complex includes the Florida-cracker-styled multi-use ballroom, a fitness
and exercise room, extensive sunning and lounging decks, shade pavilions, beach volleyball
courts and "bird-house" restrooms. The Camp has an open-air fire and story-telling ring and a
starry-night projection screen for movie events. A lake boardwalk cross-over links the Camp to
a school bus stop. Athletic fields include a full-size, competition soccer field and a little-league
baseball field with a scoreboard and ramshackle, wooden dugouts and bleachers. Multiple
basketball courts and a fully-fledged tennis center round out the core amenities. Right next door
to the Camp is a secure compound for resident storage of boats, trailers and RV vehicles.
Be sure to check out information on our schools and much more under the "Extras!" tab!
If you have any questions about Heritage Landing or would like to learn more, send me a message anytime!