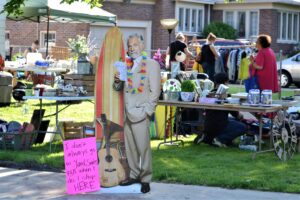 If you're new to St. Johns, you may not have heard about the many Swip-Swap groups we have on Facebook. These are a great alternative to buying or selling via yard sales. I know, personally, my family has purchased some pretty awesome things at a hefty discount by using the Swip-Swap groups … we've also sold quite a few things, too! Be warned: browsing these groups can be addictive and, before you know it, you'll have spent 2 hours looking at "gently used treadmills" and "mint condition end tables". Ask me how I know.
How to Swip-Swap:
Find something you like and type "interested" in the comments.
The owner will go to the first "interested" person and give them the option to buy the item. Sometimes sales fall through, though, and they may need to go to the second, third, or higher person down the list.
Just like a yard sale, it's OK to make an offer and haggle a little.

When meeting to buy the item, I suggest meeting at a very public location for safety reasons (i.e.: a supermarket or drug store parking lot). If you have to go to the person's home for an item that may not be easy to transport, let someone know the address of where you are going and/or take someone with you. While it is unlikely anything will happen, you just never know!

Be safe and Happy Swip-Swapping!
Local Swip-Swap Groups:
There are MANY more local Swip-Swap pages, but this should be good to get you started!
**Note: Feel free to join, shop in, and sell in multiple groups … just be sure to read the rules of each group and make sure your post (especially if it's for your business) is allowed.