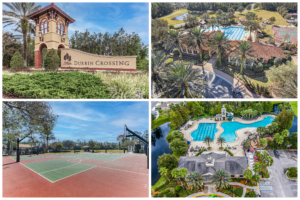 Durbin Crossing is a 2,000 acre master planned community containing 2,500 single family homes, many of which enjoy conservation area, natural preserve, or beautiful
lake views. The community is a perfect blend of natural beauty and design with
over 1,000 acres of conservation area, 39 lakes, 24.5 acres of passive parks, and
36 acres of community parks. These many acres of wildlife provide a picturesque
backdrop for residents living in the prestigious Durbin Crossing community.
Durbin Crossing is not only beautiful; it is also conveniently situated near Interstate
95 and 295, providing residents with short commutes to downtown Jacksonville, the
historic St. Augustine, the University of North Florida, the St. Johns Town Center,
and the many uninterrupted miles of white sands and crashing waves of the Atlantic
Ocean. Residents of Durbin Crossing also get to attend the high-performing schools
of St. Johns County, a county that prides itself in its A-rated elementary, middle, and
high schools.
Durbin Crossing provides many state of the art amenities to its residents. There are
two clubhouses serving the neighborhoods, one with a junior Olympic length pool
and waterslide, the other with a family pool and splash park. There are also plenty
of tennis courts, basketball courts, volleyball courts, and a multi-purpose field. Not
into sports? Stay in shape with Durbin Crossing's luxury fitness center featuring a
variety of cardio equipment and flat screen TVs.
The community of Durbin Crossing provides a place for residents to be one with
nature, find peace and quiet, and spend time with their families. Escape reality and
surround yourself with nature in our beautiful and tranquil community.
Be sure to check out information on our schools and much more under the "Extras!" tab!
If you have any questions about Durbin Crossing or would like to learn more, send me a message anytime!